Our Products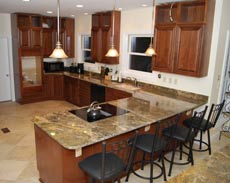 Granite Countertops
Come see FloorCraft's wide selection of Custom Countertops that will help transform your space into a durable and elegant surface sure to beautify any bathroom or kitchen.
Benefits of Our Granite Countertops and Vanity Tops
Granite is naturally resistant to the types of wear a countertop or vanity top is likely to endure on a daily basis:
Heat resistance
Abrasion resistance to cutlery and other common kitchen items
Moisture resistance
Overall durability
Sense of permanence
Higher resale value for properties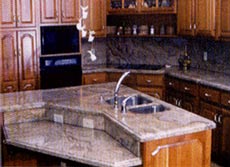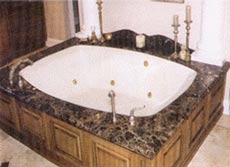 Installing a granite counter or vanity top adds strength in both performance and as a notable design feature.
Our granite counter and vanity tops set the bar higher.
Being a natural material, each of our granite countertops and vanities feature patterns and colors that make them one of a kind. For a surface that offers a level of elegance that is often imitated but never equaled, our granite counter or vanity tops are the surfaces that raise the bar for all surfaces.
All of the strength and beauty offered by granite is now available within your budget for any residential or commercial countertop or vanity top project. Come see what FloorCraft in Bellevue can do for you.