Our Products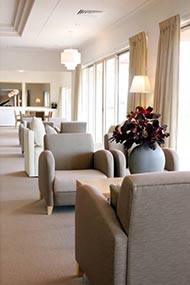 Window Treatments

Window treatments can change the look and feel of your home entirely when you find the perfect solution for your home at FloorCraft! We offer a wide selection of elegant and stylish brands in all window covering products. Products from Hunter Douglas, Timber Blind, Graber, Levolor and more. Design elements for window coverings are always accentuated with elegant shapes and styles. Friendly experts will be there to guide you as you begin to consider which product will be best suited for your lifestyle. Fast delivery means getting back to enjoying your home sooner, and highly trained installation technicians are there to make sure that they are placed properly and quickly. With so many great options, finding the blinds and window treatments that will make your life more comfortable is simple.

What to Consider While You Shop
It can be helpful to know what to keep in mind to find the right blinds and window treatments for your home before you start shopping. There are a number of important factors to consider, and having them in a convenient list to refer to as you shop can make the process easier. To help you, we have consulted our experts on some of the most helpful things to remember while you search for the perfect blinds and window treatments. They are as follows:
How much sunlight will this room receive? How much sunlight do you want to expose the room to? For example, if you enjoy sleeping in on the weekends, you'll want blinds and window treatments that can filter out most of the light from outside. It can also be important to protect certain flooring materials, furnishings, and other fixtures around the home from harmful UV rays. Conversely, if you enjoy a lot of natural lighting in other areas of the home and do not have any photosensitive possessions to worry about, you will want a product that can let more light in.
What is the decor of the room? If you enjoy a bohemian look for your home, for instance, blinds made out of a natural material (like bamboo) could complement your decor well. A bold pop of color and texture from a fashionable valance can hide the unsightly top of your blinds and bring a unique flair to your interior. You can even find beautiful drapes in soft colors for a more dreamy atmosphere in the family room. The design possibilities are almost infinite!
What level of privacy do you want? Consider that this can change throughout the day. Think of the way that you enjoy light in your bedroom or living room during the day, but enjoy privacy during the night. Drapes that can be adjusted or blinds that can be opened and closed can be easy and adaptable options. A gauzy curtain for the shower window to preserve privacy and let sunlight in is another good example. If you want options for covering or exposing your windows, we have the blinds and window treatments to suit your needs.
What is your budget? Ask one of our helpful design advisors or showroom consultants prior to falling in love with one of our luxury styles if you have a limited budget. We can direct you to an affordable option that will still look stunning in your home and function the way that you want. Our prices are fair and you can still get high quality products even if you are keeping an eye on the price tags.
What level of maintenance do you prefer? Homeowners with pets, children, or little free time may want to consider vertical or horizontal blinds that can be dusted easily rather than fabric drapes. Note the material of the blinds or window treatments that you select and consult our staff or the manufacturer to know how to best care for them. Asking questions about the maintenance can save you an unexpected hassle later!
Whether you want a single curtain for the bathroom or a series of decorative valances for your bedroom, FloorCraft is happy to provide the blinds and window treatments to make your home more comfortable. Shop our collections now in the Bellevue, WA areas and save more on your home remodeling project today!